Finally got around to doing this...Sorry for the wait. I've now linked with a soundcloud where all my favorites/saved promo clips will be. Link is on the right hand panel. Got a mix of tracks to post today...some break, dubstep, and drum and bass. First off here's two new releases from Deekline and Solo, both remixes of Benny Benassi's "Beautiful People". The first ones a junglistic/break beat take with some ragga vocals and the second is dubstep. Love both equally and the vinyl artwork is sick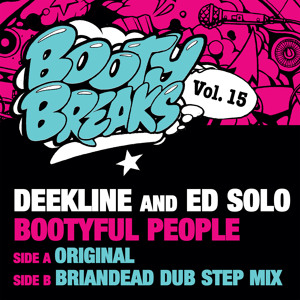 Only discovered Klaypex very recently but love what they're doing. This is a remix of an Ellie Goulding track which even some of my staunchly anti-dub housemates liked.
Not been a huge fan of quite a lot of the liquid dnb being released at the moment despite it being one of my favorite genres. There's been quite a few duds from even the biggest producers over the last few months in my opinion. However I heard a few of Breeze Blocks tracks recently and they have restored my faith. Absolutely incredible producer...head over to his soundcloud and listen. This track "you knew me before" reminds me of Sencae's "Put your hands" which is another epic track...
Last but not least, an entry into the DJ Shadow competition by Rameses B. It didn't even get runner up but was one of the best.